Nello Sorgiovanni from Bannockburn, Victoria spoke to Kanga about why his chooses Kanga mini loader 
I chose a Kanga mini loader because I think they will be around for a long time and may become the future.
A stand on skid steer loader such as a Kanga 8 has the capability of a larger machine and comes with a 360-degree view for free.
I purchased my first Kanga thirteen years ago after seeing an ad in the local newspaper; 7 years later I purchased my second Kanga and between the pair of them they have never let me down.
My clients have always been very impressed with the setup and service I provide. As a firm believer that there is no need to change when on you're on a good thing, as my two 'old-faithful' Kanga's were wearing out, replacing with a new Kanga was an obvious choice. 
I had great service through the Kanga 5 series and was impressed with the newest models' features. I needed something bigger and after a play with a demo, I couldn't believe how easy it was to use, the smoothness of its movement and fuel efficiency. It also has a beautifully balanced arm system.
You couldn't ask for more!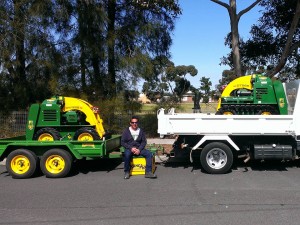 Nello uses the following Digga attachments