A contracting business has become a highly viable option for many of our customers due to the high utilization of a Kanga Loader and the multitude of attachments, which make just about any job possible! Manual work is truly becoming a thing of the past with our versatile multi-task loaders.
Kanga Tough means the very best in 3 fundamental areas: Power, Speed and Durability. Kanga Loaders are designed to outperform the rest and withstand adverse conditions or rough handling. Getting the job done quicker means your customers are satisfied and you have more time to enjoy the important things in life.
Our Custom built Kanga trailer offers the ultimate in portability, convenience and profit potential for a Kanga Loader based business. The business package has been developed to ensure all clients investing in the technology make the right choices in equipment, and enter the market with proper planning and ongoing maintenance and partnering.
With Kanga Finance from just $100/per week, starting a contracting business has never been easier!
OUR SUCCESS IS YOUR SUCCESS
At Kanga we are commited to your success. We understand a Kanga Loader is a business investment, so our machines are designed to maximise your R.O.I. Safety, Durability, Resiliance, and Reliability are just a number of our core principles that will give you peace of mind when considering a Kanga. Like you, we mean business.
 POPULAR MACHINES FOR CONTRACTING
POPULAR ATTACHMENTS FOR CONTRACTING
---
 HEAR IT FROM A CONTRACTOR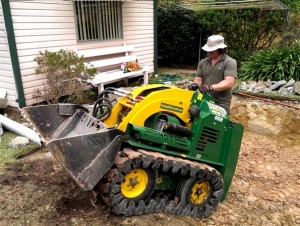 Sutherland Shire Kanga Hire
I spoke to a number of people who already used skid steer machines and the overwhelming response was that Kanga machines were superior to their domestic competitors. I also wanted to support an Australian brand, although I would ultimately have gone with whichever manufacturer made the best product. As it turned out, that was Kanga.