A custom package paint job on your Kanga Loader can really set your business apart on the job site; allowing you to coordinate with the rest of your fleet and have a professional appearance.
Kanga custom packages are designed to give you the leading edge and we offer a range of custom built, industry specific options to suit your needs – not just custom paint jobs!
Northern Rivers Custom package mini loaders.

Earlier last month Northern Rivers Hire Service took delivery of two custom painted Kanga Loaders.
They wanted to give their customers a wide choice and versatility so therefore they opted for a wheeled-6 Series and tracked-8 Series.
Both models are innovative in their own right.
The DW625 has a width of just over 1 meter and so it is ideal when access is tight.
The DT835 (8 series) is powered by the 35hp Kubota Diesel engine which makes it the most powerful mini loader on the market. Additionally, the DT835 comes with a safe working load of 360kg resulting in greater efficiency when moving large loads.
red kangas
Northern Rivers decided to take advantage of one of the custom packages Kanga Loaders offers and opted for a red paint job on both models. The custom red brands their new machinery in line with the rest of their fleet at a small extra cost.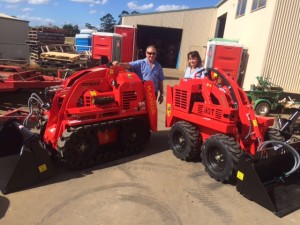 kanga mini attachments.
All models in the Kanga loader range offer power, speed and durability.
To increase 'rentability' of the new Kanga's, Northern Rivers were supplied with a range of labour saving attachments.
The attachments included Kanga auger post hole diggers and trencher.
To ensure customers satisfaction, the mini loaders were delivered by Sales Representative Bryson Sonter.
When Bryson delivered the machines he ensured his customers were fully satisfied with their new purchase. Furthermore, he ensured they were completely comfortable with operating the machinery before leaving them to enjoy the benefits.
Bryson went through all of the loader and attachments operation and maintenance for the two Kanga loaders giving us the confidence to pass on that knowledge to any of our hire customers.
Ask us about how our custom packages can help you.
For more information on Northern Rivers Hire Service and to rent your Kanga Loader today visit http://hirequipment.com.au/look-whats-new/