Whether you work in landscape design & build, irrigation, soil preparation, sod installation, tree installation, arbor or landscape management in general, versatile machinery has become indispensable. Kanga's range of loaders and attachments have become the number one choice for landscapers looking to gain the competitive edge in their industry and work more efficiently. As residential blocks in inner cities are becoming smaller,  landscapers have started to require a narrower machine. The 2 Series track machine is our narrowest in the fleet at only 770mm wide. Even the large 8 Series machine maintains a width of just over 1 metre.
LANDSCAPING EQUIPMENT
LANDSCAPING ATTACHMENTS
HEAR IT FROM A LANDSCAPER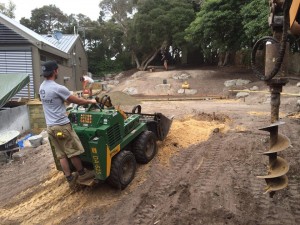 ELEMENT GARDENS
Element gardens has been running for over 10 years we have always built the larger domestic gardens suited to the Mornington Peninsula. I purchased my first 6 series Kanga in 2007 and that was the start of new beginnings for Element Gardens. The machine was such a success that element excavations was evolving without me even knowing.