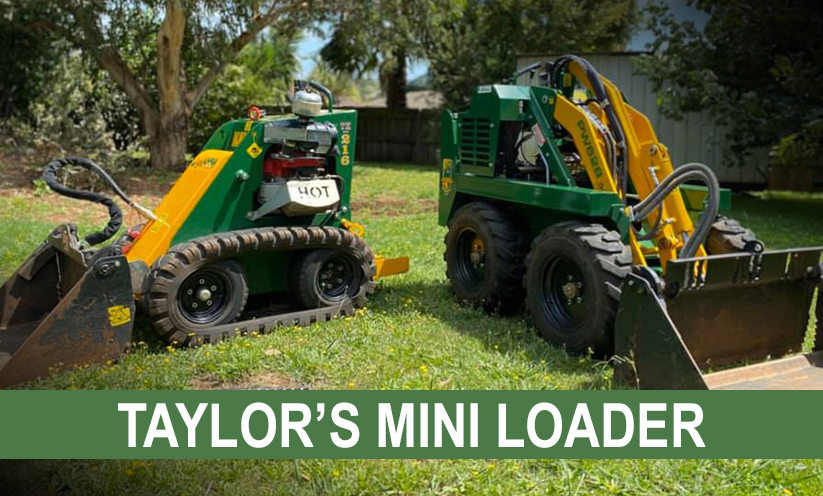 We had a chat to Michael from Taylor's Mini Loader, who has shared his Kanga story with us and is liking his newest addition: the Kanga Kid. Take a look at what he has to say.
How did your Kanga Journey Start?
"About 17 years ago I purchased my first Kanga 5 Series loader and operated the mini loader as a contractor for 5 years. I sold the machine due to personal reasons and picked the business back up about 2 years ago, when I bought a refurbished 6 series loaders. Ever since I have upgraded to another 6 series with less hours and only a few months ago I bought a Kanga Kid – and I must say, I was really surprised. Admittedly, I always thought the Kanga Kid is way too small, however out of all the machines it is now my favourite one. When you're on the thing, all you do is smile! My son is turning 18 soon and is excited to be operating it as well."

What do you like about the Kanga Kid?
"I've actually picked up more work since I have had it – blocks are getting smaller and residential areas are getting harder to get to, especially between retaining walls with hot water service. I am really glad I bought it."
What kind of work do you do?
"Mainly residential stuff: block cleans, retaining walls, fencing, digging for crossover paths, spreading mulch or burying horses on farms. I own a 4in1 bucket, augers with a power head, a trencher, leveller attachments, rippers and a mixer bowl for building retaining walls. I purchased a full package with tandem trailer, which is quite handy.
All attachments are very well made. My favourite attachment is actually the leveller attachment. People don't realise it can be used for much more than just carrying or spreading material. The angles on the cross bars allows you to cut and trim. I use it to level concrete, chamfer stuff – it is a really good finishing tool."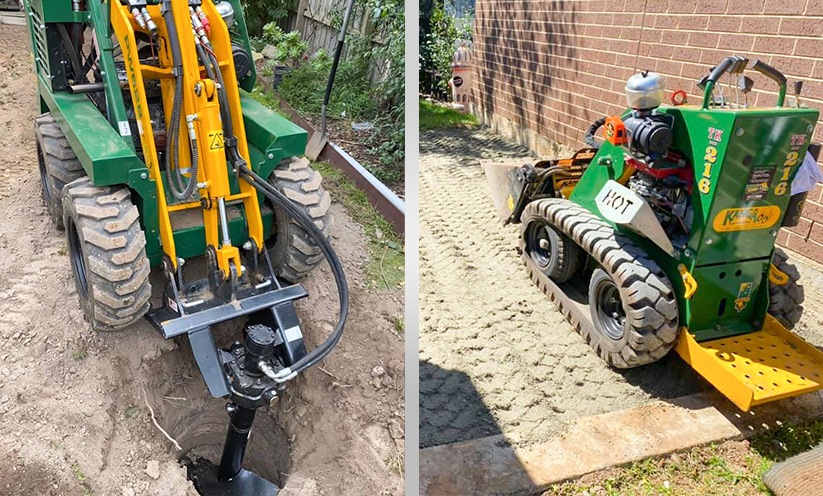 How often do you operate your machines?
"I run my business part-time, as a side-business. In summary, I operate about half a dozen times a week, about 20-25 hours per week. Depending on the job, I'll spend between 2-7 hours straight on the mini loader."
Why would you recommend Kanga Mini Loaders to other businesses?
"Overall, they are very user-friendly. The spring step really allows you to spend many hours on the machine without putting pressure on your body. The ergonomic use of the controls is great as well as the self-levelling feature. Up to this point, I've always had petrol machines, because I believe Honda Engines are very reliable.
I would recommend it to businesses and also farmers or people who want to build their own house, which would be able to save a lot of money.
The good thing about Kanga Loaders, is the fact that they are a well-known brand so they are easy to resell. For instance, I've sold off my previous second-hand machines and they go within a few days. As I purchased my current Kanga's outright, it is great I have no stress and can sell them off anytime I need.
In terms of service, Kanga is easy to contact and their mobile service is good. Whenever I need some parts I call them up, go to the facility, pay at the counter and walk out within minutes with my parts."
– Michael from Taylor's Mini Loader in Drouin, Victoria.
Find out more about our loaders here.