As residential properties are becoming more confined for pool installation, the need for narrow access has never been higher. With the Kanga 2 Series maintaining a width of 800mm and our largest 8 Series just over 1metre wide, you can gain access to virtually any space possible, moving more dirt in faster cycle times. Why not arrange a demonstration to see how a Kanga can add value to your business and improve your bottom line.
We now have 2 machines, both Kanga, and we are very happy with the product & service. We are more time efficient on each job and would save about $500 per job in man hours doing the work manually, saving approx. $40K/year
MOST COMMON LOADER USED IN THE POOL INDUSTRY
HEAR IT FROM A POOL BUILDER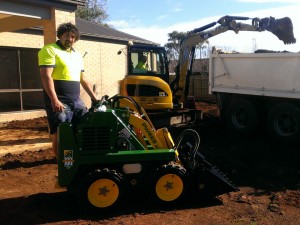 LEISURE POOLS – WARRAGUL
The PW628 machine is perfect for our application being used to blend our stabilized back-fill using the 4 in 1 bucket & is very maneuverable around the work site, it is easily transported by trailer from job to job.