In this post, Todd Kalajzich from Boral Dunmore explains why a remote controlled loader has proven to be a practical and safer way of working.
Cleaning up spillage in areas with limited access around fixed plant is a difficulty that most quarries endure. The job is generally completed manually or alternatively with a stand on mini digger type machine in order to reduce the risk of manual handling and injury.

After much consideration by operators, trainers and site management we formed a list of criteria that a potential new machine must meet. We conducted extensive research to find the most suitable machine and radio control system for the job. After trialling a number of possible solutions we all agreed on the Kanga remote controlled loader. It's characteristics suggested it was the right machine for the job. These features included:

The size and capabilities were a perfect fit for access around the plant;
It would be effective in cleaning of spills and aid in eliminating potential manual handling issues;
The radio control was extremely user friendly for the operator;
The machine has a number of attachments which we can be use for other applications around the site.
Benefits of the kanga remote controlled loader
Todd explained how the key features of the RC loader have made working around the site much safer. Their benefits are listed below:
With the remote control we can now access areas on the loader, with tools. Previously we could only access them by foot and had to clean up by hand
We have seen gains in the efficiency of plant cleanup operations and the Kanga has provided us with peace of mind. We know that the machinery is controlled remotely so we have reduced the chance of manual handling injuries
The proximity switch and man down function keep the operator well out of harms way so we are working much safer
After the initial set up costs, it is now proving to be very cost effective in operations:

The reduced manpower and time saved cleaning get the plant back, up and running sooner;
The mini loader has excellent digging capabilities. This saves the business on manual workers but also a reduction in potential manual handling injuries. Removing operators from hazardous enviornments will reduce potential manual handling injuries or possibly saving someones life!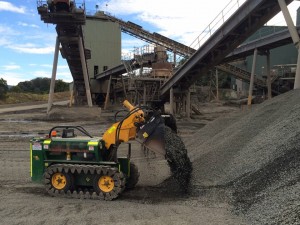 For more information on the Kanga remote controlled loader click here. Alternatively view our other loaders suitable for construction and mining.