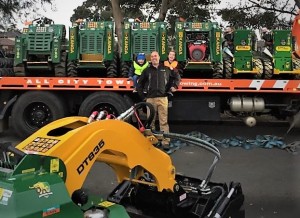 Declan Halpin
Kanga Loaders Sales Consultant for Western Victoria
Hobbies: rugby, cycling, caravaning with the kids
Interests: machinery, beer
Favourite band: U2, Dubliners, Pogues
A young Irish and footy mad Declan Halpin arrived in Australia at the age of 25 after following the World Cup for a 3 month stint of travelling. He arrived into Sydney looking for work and made contact with a dealership in Echuca. Hopping on the next bus down to Melbourne and catching the train out to Echuca he worked his passion for a couple of months as an Agricultural Mechanic servicing mainly Valtra tractors while exploring the sites and sports of Australia.
He set off to chase the World Cup back to Ireland but it wasn't long before he got a call to work as a Valtra Tractor Specialist for EAPAC and in March 2004 was moving his family to Australia.
In 2012 Declan joined Kanga Loaders as a Sales Consultant for Western Victoria. Declan explained, "the transition from service to sales was and has been a tremendous one as I felt it was time to down the spanners and start to gain knowledge and experience in figures and budgets!'
Declan has always worked with tractors, starting his apprentice in 1995 with one of the largest dealerships in Ireland, Clarke Machinery. Declan worked as an Agricultural Mechanic and Service Manager, looking after 3 branches across the county.
My work ethic is simple. I give the customer 110%. I sell them an Australian built machine and I sell them what they need not what you may think they may need. I am passionate about my product and as mentioned before, very proud to be selling an Australian built and Australian owned company.
The article below demonstrates Declans passion and commitment perfectly; a Valtra tractor was a special guest at his wedding to partner Martina at Trim Castle in Ireland. (Click the image to read the article).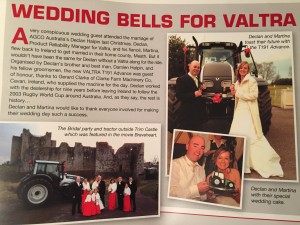 If you're in the Western Victoria area and would like to get in touch with Declan give him a call on 0427 934 568.