Kanga – The Compact loader Range
One of the key benefits of the Kanga range is that they're a compact loader design.  This makes them ideal for tight access, inner city residential jobs.
With machine widths starting at 760mm they are a compact loader that don't compromise on power.
Our customer Access Limited Excavations demonstrates some of the other key features.
In the video he is using his 6 series Kanga Loader on the work site and showing off some excellent skills.
watch access limited excavations in action with their compact kanga
Click here to play, video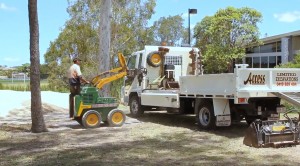 Key features of the kanga 6 series
Huge 23″ tyres provide excellent ground clearance
The 4 wheel, hi-torque drive system makes it suitable on all terrains
It has upto 3250psi hydraulic system pressure providing incredible power and durability
A factory fitted, heavy duty 5 inch Donaldson air cleaner keeps the engine dust free
Measuring only 1030mm wide, it is ideal when access is limited