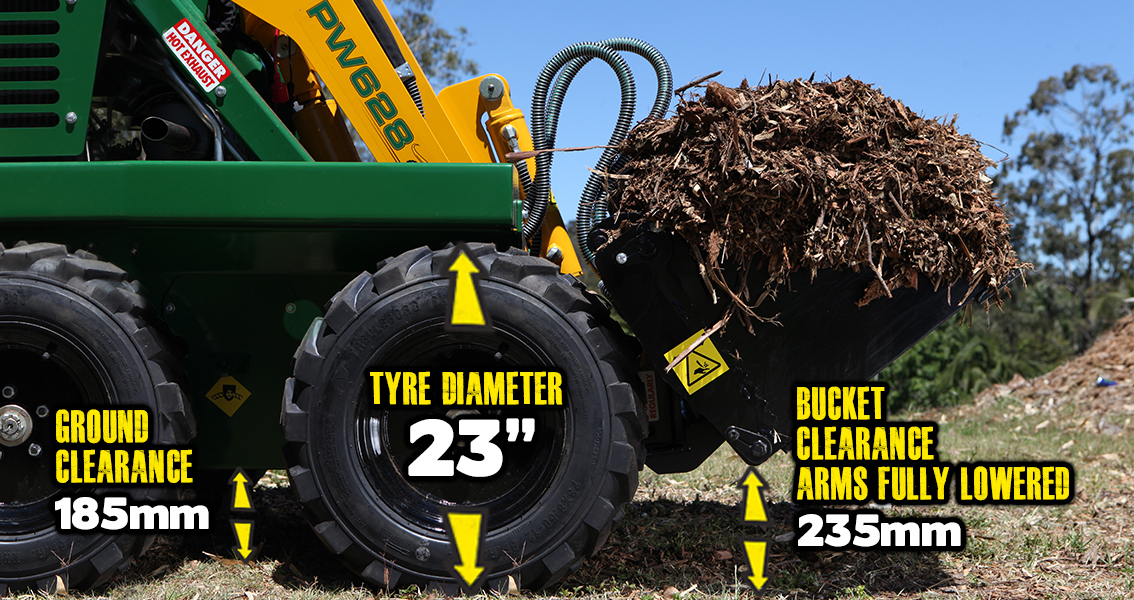 Kanga's basic model lineup is complimented by the best wheel/tyre ground clearance combination possible.
Industry Leading ground clearance
Biggest wheel tyre combination
No compromise on torque, powered by 32cbi hi-torque wheel motors
Strong heavy duty wheel construction
Best in class – Approach and departure angles
Best in class – Load carrying stability across undulating ground.
---
BUCKET CLEARANCE
Such an important product feature that is often overlooked. The ability to carry a full load with the arms completely lowered ensures optimum stability & safety. Other machines in the market require the operator to lift the arms when carrying a load as they don't have adequate ground clearance, this puts a tremendous amount of pressure on the hydraulics. With a Kanga, the bucket in the full rollback position is in line with the belly pan of the machine, providing a true indication of clearance before damaging the belly of the machine.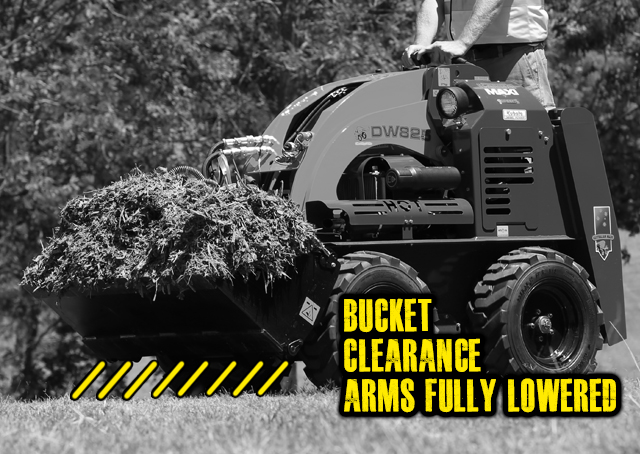 ---
WHEEL POWER
Wheels are the traditional option for Skid steers- they are versatile in all ground conditions and can operate on hard surfaces such as concrete and asphalt but also are at home on turf, dirt and rocky conditions.
Kanga tyres are designed for longevity can last for over 1000hrs and this relates to very low running costs over the life of your machine with very minimal maintenance.  Kanga have engineered this concept further than any other manufacturer and have developed a design that incorporates huge 23″ tyres offering many advantages over machines fitted with smaller wheels. Think like a 4WD vs a Barina- the Kanga has the best ground clearance allowing it to clear obstacles like jumping a gutter and deeper mud without the base pan of the loader bottoming out and becoming bogged. The larger tyre diameter means that the machine has a larger surface contact with the ground allowing more torque (pushing power).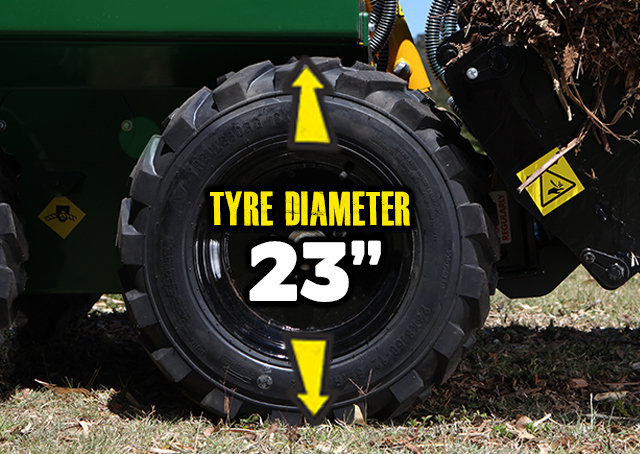 ---
LOAD ENGINEERING
All machinery needs engineering strategies to place the least possible load and stress on its components. Not all skid steer loaders are engineered the same. Kanga Loaders are engineered to perform and last. Other manufacturers still mount their wheel motors by bolting them through the sheet metal of the chassis without supporting the wheel motor in a manner that will last the test of time.
Kanga's wheel motor has its own housing, the bearing was strategically designed to be mounted within the tyre hub resulting in the centreline of the bearing being in the centre of the tyre. This results in less pressure and force being transferred through the wheel motor. Less stress on the wheel motor means that the life expectancy of a wheel motor has increased, the bearing is not exposed because it is protected within the hub of the tyre.